Want to know more about our artists? This is the place to do just that.
Here, you'll get to know the person behind the artwork.
Bernice Benton – acrylic and stained glass artist - Empyreal
I didn't become an artist until I was almost 40. Until then I lived in Essex, had a busy, happy, conventional life and worked hard for 'the man'. It wasn't until moving to rural Mid Wales that I unleashed my latent artistic talents....I always knew there was an artist of some kind waiting to get out but it took the time, space and inspirational landscapes of our new home for me to uncover it. This new life is filled with eccentrics, creatives and free spirits. I joined an art group, took a stained glass course and, today, alongside running our B&B, gardening, working in a cafe and commentating at weird and wonderful events; I am a stained glass artist and tutor and also an acrylic artist.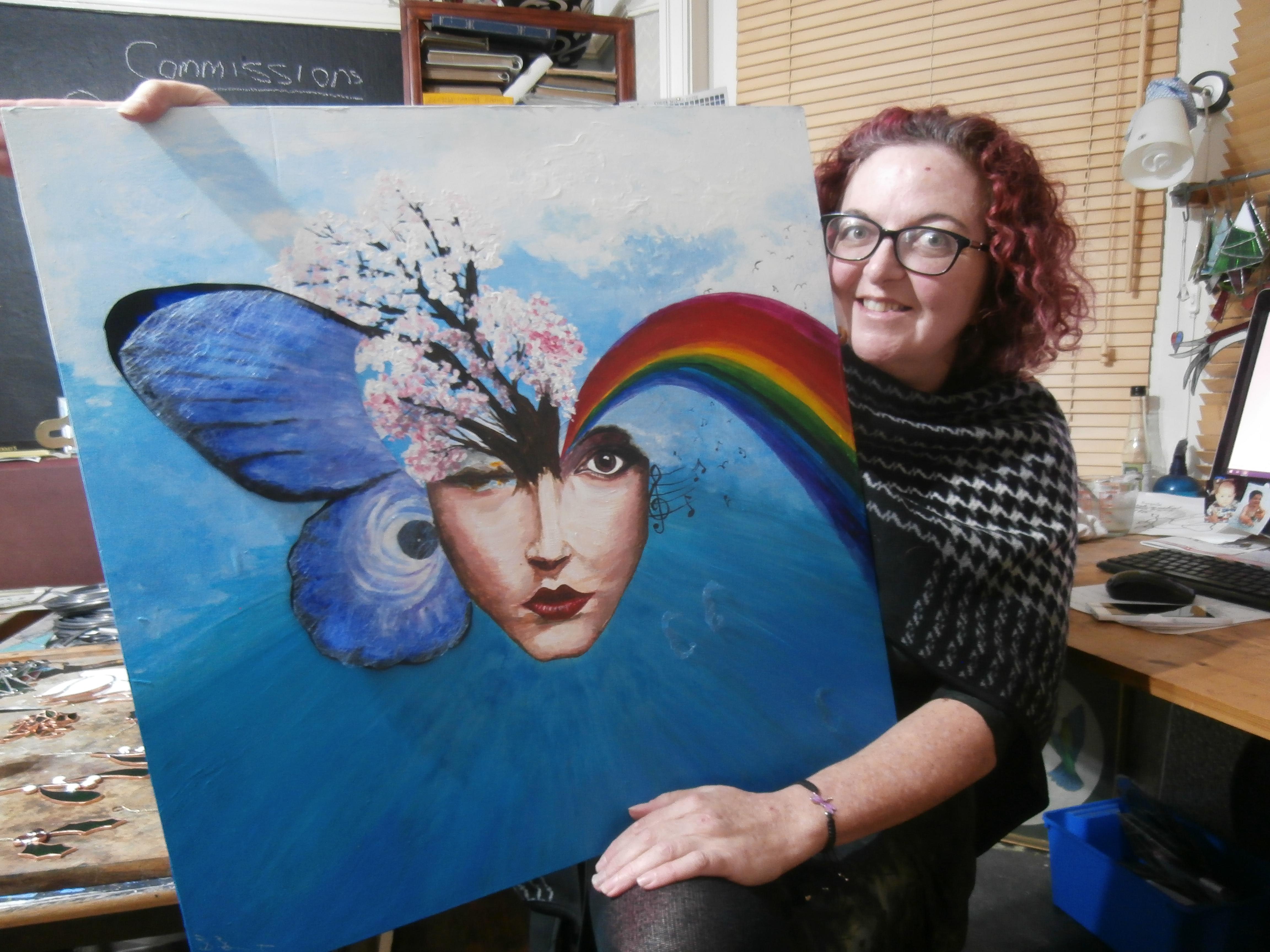 Before moving to Mid Wales I lived in the SE of England. I loved my job and had a great boss who was very flexible with staff who were working parents and wanted flexible working hours. Still, working part-time and parenting full time left me feeling like I was compromising in both areas. My mental health was suffering. I didn't even realise it. I was on serotonin balancers and, on the whole, I coped. I also struggled through mental health issues relating to hormones levels. You did not want to cross me for about 10 in every month, I had no idea who the real me was! Anyway that's not why we moved to Wales, and when we did, my company kept me on in a capacity of researcher. I was very flattered and wanted to do my best for them but it pushed me into a very bad patch of mental ill health; suffering from anxiety and panic attacks. The anxiety manifested itself (and still does) through exhaustion. When I'm anxious I can't stay awake. I found myself falling asleep at the wheel of my car on more than one occasion, so I started allowing myself an hour extra to go to work so I could cat nap every 15 minutes or so for 15 minutes or so! Then the anxiety of it started giving me migraines and I'd have to stop to vomit as I drove to and from work. I gave up the job. I began having panic attacks. I was taking Diazapan, which I hated. It was like being wrapped in bubble wrap, there were no highs in life, it was so flat.
These days I maintain my mental health just with serotonin balancing meds and being more mindful of myself. Hubby is great at spotting the signs, I'm better than I was at it.... Life, as an artist, in rural Wales, is a dream.
FB: @BerniGlassArt
Etsy: BerniBentonGlassArt
Email; berni@cerdynvilla.co.uk